Janči Matava je chatárom na jedinej vysokohorskej chate na území belianskych Tatier – chate Plesnivec. Má 25 rokov, a okrem spravovania chaty sa venuje skialpinizmu a horskému behu. Svoj čas trávi prevažne v horách. Už ako trojročný vyšiel s rodičmi bez nosenia na Jahňací štít.
Prevažnú väčšinu svojho svojho času už od malička tráviš v horách. Vieš mi to nejako viac opísať?
V roku, kedy som sa narodil, začali moji rodičia s rekonštrukciou chaty Plesnivec, takže som sa tam takmer narodil. Vyrastal som v okolí chaty a počas školy som bol doma v Spišskej Belej. Každý víkend, každý voľný deň v škole a prázdniny som trávil na chate. Naučil som sa tam lyžovať, behal som po kopcoch, lesoch.
S odstupom času si čoraz viac uvedomujem, aké pekné detstvo som mal.
Svoju prvú vysokohorskú túru si absolvoval už ako trojročný. Kde to bolo?
Na tento výkon sa veľmi nepamätám (smiech), ale áno, ako trojročný som so svojimi
rodičmi a staršími súrodencami, bratrancami vyšiel na Jahňací štít. Viem, že sme išli z Plesnivca do Kopského sedla a potom po hrebeni na Jahňací štít a po turistickom chodníku dole na Zelené Pleso.
Jahňací štít r. 1997
Chodník z Kopského sedla na Jahňací štít je exponovaný. Ani tam ťa nenosili?
Podľa fotiek viem, že v exponovaných miestach som mal okolo pása lano ako taký vodiaci pes (smiech). Ale celé som to vyšiel sám a po vlastných.
O rok neskôr si ako štvorročný vyšiel bez nosenia na Čierny štít?
Áno, podobným štýlom "na psíka". Podľa slov mojich rodičov bol tento výlet omnoho náročnejší a exponovanejší ako výlet na Jahňací štít, ale vyšiel som, takže som rád, že sa v dnešnej dobe môžem s niečím takým pochváliť.
Čierný štít r. 1998
Si stále na chate? Aká je tvoja náplň práce?
Áno, som stále na chate, už 25 rokov (smiech). Na chate mám prezývku "malý šéf", takže robím všetko, čo robí "veľký šéf" (smiech). Mám na starosti hlavne zásobovanie chaty, ale neminie ma, žiaľ, ani umývanie riadu, čistenie zemiakov a podobné práce v kuchyni. V zime je zásobovanie náročnejšie, pretože sa na chatu nedá dostať autom, a tak musíme všetko vynášať na chrbtoch.
Akú prácu máš najradšej a čo naopak nemáš rád?
Nemám rád utieranie riadu a čistenie cesnaku, zemiakov, mrkvy a pod. Vždy urobím všetko preto, aby som sa tejto práci vyhol (smiech). Naopak, najradšej mám rúbanie dreva a v zime vynášky.
Čo robíš na chate vo voľnom čase?
Doslova utekám čo najďalej od chaty a od práce (smiech).
Akým športom si sa venoval a akému sa venuješ dnes?
Skúsil som všeličo futbal, hokejbal, florbal, lezenie, beh, skialpinizmus...
Ale momentálne sa venujem hlavne behu a v zime skialpinizmu.
Venuješ sa behu a skialpinizmu aj profesionálne? Zúčastňuješ sa pretekov?
Nie, nevenujem sa im profesionálne. Keďže som sa nevenoval jednému športu od malička, je neskoro začínať sa niečomu venovať profesionálne. Pretekov sa zúčastňujem a snažím sa vždy zo seba vydať maximum. Niekedy sa to podarí, inokedy nie.
Aké je tvoje najlepšie bežecké umiestnenie?
Určite je to 2. miesto z bežeckých pretekov v Squamishi v Kanade. Bol to pretek na 15 km po kopcoch v totálnej divočine. Pamätám sa, že ako prvý prišiel do cieľa Kanaďan asi 25 sekúnd predo mnou a tretí asi po troch minútach prišiel Švéd.
A čo skialpinizmus a pretekanie?
V skialpe je to iné, donedávna som mal ťažké lyže s ťažkými lyžiarkami, a to sa pretekať nedalo. Pred dvoma rokmi som si doprial ľahký set a podarilo sa mi pekne umiestniť na niekoľkých pretekoch alebo niektoré dokonca aj vyhrať.
Akú pretekovú zimu si mal tento rok? A čo plánuješ na leto?
Táto zima bola biedna, na jeseň som mal zdravotné problémy, ktoré ma odpísali na takmer tri mesiace. Začiatkom zimy sa mi podarilo ako-tak dohnať stratenú kondíciu, ale koncom januára som dostal angínu, hneď na to zápal dýchacích ciest a bolo po zime. Koniec zimy som si užil rekreačne na lyžiach a na pretekoch ako fanúšik.
Na leto mám pripravených pár pretekov, ktorých sa chcem zúčastniť, ale v prvom rade musím byť na 100% fit. Rád by som sa zúčastnil: Poludnice, Tatranská šelma vertikal, Tatranská šelma ultra, Redbull 400 a Psotkovho memoriálu. Po týchto pretekoch mám v hlave ešte taký malý projekt, ktorý by som tento rok rád absolvoval.
Čo ťa najviac baví na týchto športoch? O aký projekt ide?
Najviac ma baví byť v horách a v prírode. Počúvať to ticho, bežať pri východe slnka, lyžovať v prašane, užívať si tu voľnosť, ktorú v horách prežívam, pozorovať zver a raz za čas stresovať kvôli medveďom (smiech).
Je to taký osobný bežecký projekt, ktorý som chcel prebehnúť minulý rok na jeseň. Ide o prebehnutie všetkých kopcov okolo Chaty pri Zelenom plese v jeden deň a v čo najkratšom čase. Detaily si zatiaľ nechám pre seba (úsmev).
Čo je pre teba taká srdcovka, kde najradšej chodíš? A prečo?
Belianske Tatry, pretože je to najkrajšia časť Tatier a väčšiu časť života som trávil práve v dolinách a kopcoch Belianok.
Všimol som si, že máš na sebe oblečenie od značky Skogstad a nášivku norwayshop, je to nejaký sponzor? Máš sponzorov na to, čo robíš?
Áno, Norwayshop sa stará, aby moje letné, ale aj zimné výlety/tréningy prebiehali v teple a v suchu. Je to malý obchodík s oblečením a doplnkami prevažne zo severských krajín (Nórsko, Švédsko...), takže sú to všetko kvalitné veci do ťažkých podmienok. Každému, kto má rád turistiku, behanie, kempovanie, skialpinizmus, odporúčam tento obchod navštíviť.
Ktoré kúsky Skogstad sú pre Tvoje aktivity najpraktickejšie?
Všetky kúsky Skogstad sú praktické, záleží však od ročného obdobia. V zime som veľmi často používal kombináciu búnd SALEN. Je to páperová bunda na ktorú som si zvykol dať technickú bundu BJORKEDAL. Mohlo pršať, snežiť, fúkať, stále mi bolo teplo a komfortne. Naopak, počas leta pri behu používam často kraťasy SAKSI a ľahkú bundu SPITERHOI.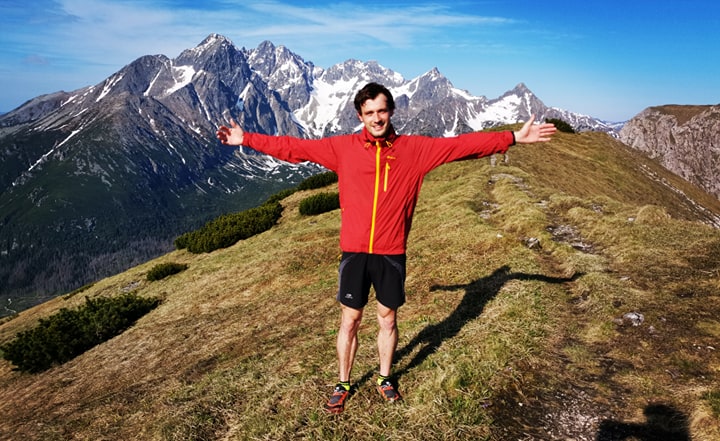 Ľahká vetruodolná bunda Skogstad Spiterhoi